Snack time is the best time right?! Maybe other than coffee time…or the both together makes for even better. I actually do love to pair these Healthy Pumpkin Protein Bites with my morning coffee or for a pre-workout snack, but warning you now they don't last long! These pumpkin protein bites not only make for a great snack, but they are great during pumpkin season!
Healthy Pumpkin Protein Bites
What you need:
Rolled Oats: you can buy a big bag of these and use in many recipes of mine! I get a bag at Trader Joe's.
Pumpkin Puree: make sure you're getting pumpkin puree instead of regular pumpkin in the can! There's a difference 🙂
Vanilla protein powder (I like to use this one! –Use code "onebalancedlife" for a discount!): if you don't want to use protein powder, you can also use collagen peptides here too.
Chia seeds: this is optional if you'd like to include them or not.
Creamy Almond butter or peanut butter: make sure you're using a creamy nut butter here! If it's not creamy, you may have a problem mixing all the ingredients together without it being too dry. I like to use the Trader Joe's creamy peanut butter or almond butter.
Honey: just a tad honey goes a long way here! You may need to add more if your mixture is too dry.
Pumpkin Pie Spice, Cinnamon and sea salt: all the seasonings that are perfect for these!
Mini chocolate chips: I prefer mini chocolate chips here!
Can I use any oats?
No! For this recipe, I have only used rolled oats. I will pick up a big bag of rolled oats at Trader Joe's and they are perfect for this.
Does any nut butter work?
Yes! You can replace the nut butter for any of your favorites. I just recommend it being a creamy one so that everything mixes well. You may need to add more honey if it comes out too dry. I love to use the Trader Joe's creamy Peanut Butter or Almond Butter in this recipe.
What protein powder do you like?
I love this one from Nuzest!! I've been using it for a while and love that it's not a weird vanilla taste like you can find in some.
Why these are great to prep for the week:
Perfect for an easy on the go snack!
They are great to pop in your mouth before a workout
You can crumble them on yogurt or oatmeal bowls
Snack bites are sure to please everyone!
Ways to switch up these bites:
Use a different creamy nut butter
Add whatever vanilla protein powder that you like!
Make without the chocolate chips
If you like these pumpkin protein bites, you may also enjoy these bites on One Balanced Life:
Do you love pumpkin recipes? If so, try these!
Best ways to store your bites for the week:
I love using stasher bags! These work well in the fridge or in the freezer.
Porter bowls: These are not only so cute but work well for storing!
Recipe tip: if the mixture comes out too dry, add a little more honey or nut butter. Before rolling into balls, you want to make sure the mixture is sticky enough to do so.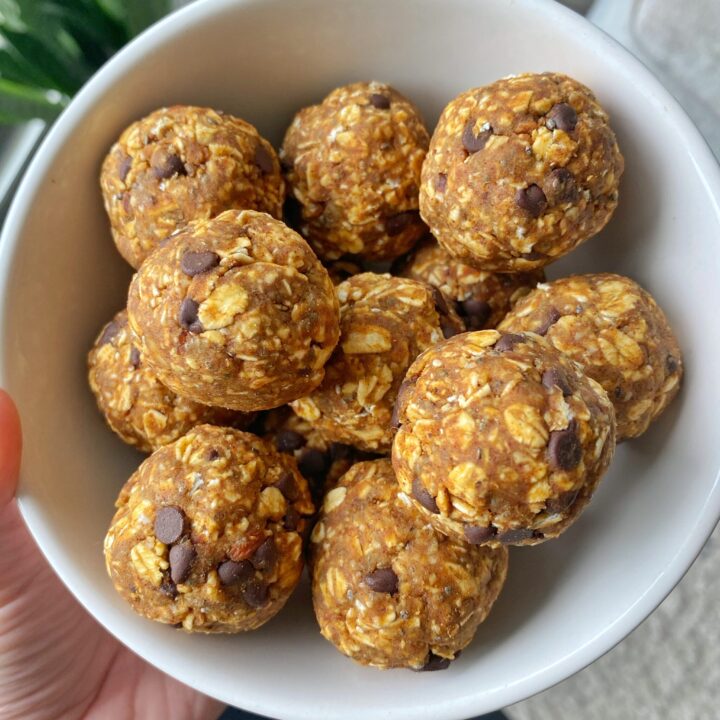 Pumpkin Protein Bites
Ingredients
1 1/2 cup rolled oats
1/2 cup pumpkin puree
1/4 cup creamy almond butter or peanut butter
1/4 cup mini chocolate chips
2 tbsp honey
2 tbsp chia seeds (optional)
2 scoops vanilla protein powder (25g)
1 1/2 tsp pumpkin pie spice
1 tsp cinnamon
dash of sea salt
Instructions
Combine all ingredients into a bowl and mix.
Place mixture in the fridge for 15-20 minutes or so.
Roll into balls!
Store in the fridge for the week!
until next time...