It's time for a new kale salad on One Balanced Life! This Southwestern Kale Salad is packed with flavor and makes for a delicious kale salad to fix this spring and summer. Not only will it leave you feeling good after enjoying it but you'll feel satisfied too. It's packed with ingredients that are simple and a homemade Avocado Cilantro Dressing that you'll love!
If you haven't noticed, I love a good kale salad. There are so many ways to make these salads not only taste good, but keep you feeling satisfied for meal time. I love making salads like this at the beginning of the week and serving with protein for lunch or dinner for something simple. This Southwestern Kale Salad is made using a homemade Avocado Cilantro Sauce that's made with simple ingredients and perfect to massage into this kale for flavor.
What you need for Southwestern Kale Salad:
Shredded Kale (I buy the bag at Trader Joe's!)
Cherry Tomatoes
Black Beans
Pickled Onions
Roasted Corn
Pumpkin Seeds
Cotija cheese
What you need for Avocado Cilantro Sauce:
Cilantro
Avocado
Plain greek yogurt
Garlic Clove
Olive oil
Sea salt
Black Pepper
Water
How to make Southwestern Kale Salad:
Start by preparing your Avocado Cilantro Sauce. Add all of the ingredients to a blender. You will want to add water to it to get it the sauce to the consistency for this salad.
In a large bowl, add kale, chopped tomatoes, black beans, pickled onions, roasted corn and pumpkin seeds.
Add avocado cilantro sauce and mix with kale to completely coat. Make sure to massage with the kale. Tip: It's best to use your hands when massaging the kale!
How to make pickled onions:
Pickled onions add the best flavor to everything, but especially to this burger bowl! Start by chopping up the red onion in half and then into some thin "C" slices. Set aside to make the brine. Take 6oz of water and set to a boil on the stove. Put in 1 tbsp salt with 1 tbsp white sugar into the mason jar with red onion. Pour in the boiled water and then fill the rest of the jar with white vinegar. Place lid on mason jar and give it a spin to let onions soak it up. Store in the fridge for the week!
Best way to store your leftover kale salad:
It's best to store your salad in a sealed container in the fridge. I like to use these for a variety of sizes or these are great for grab and go and easy (plus cute!) storage in the fridge.
If you want to pair this kale salad, try this:
Add grilled chicken or salmon on top!
Mix in shredded chicken or chickpeas for more protein!
Top with crunchy chickpeas for a plant based protein.
Serve this kale salad as a side salad for dinner or lunch.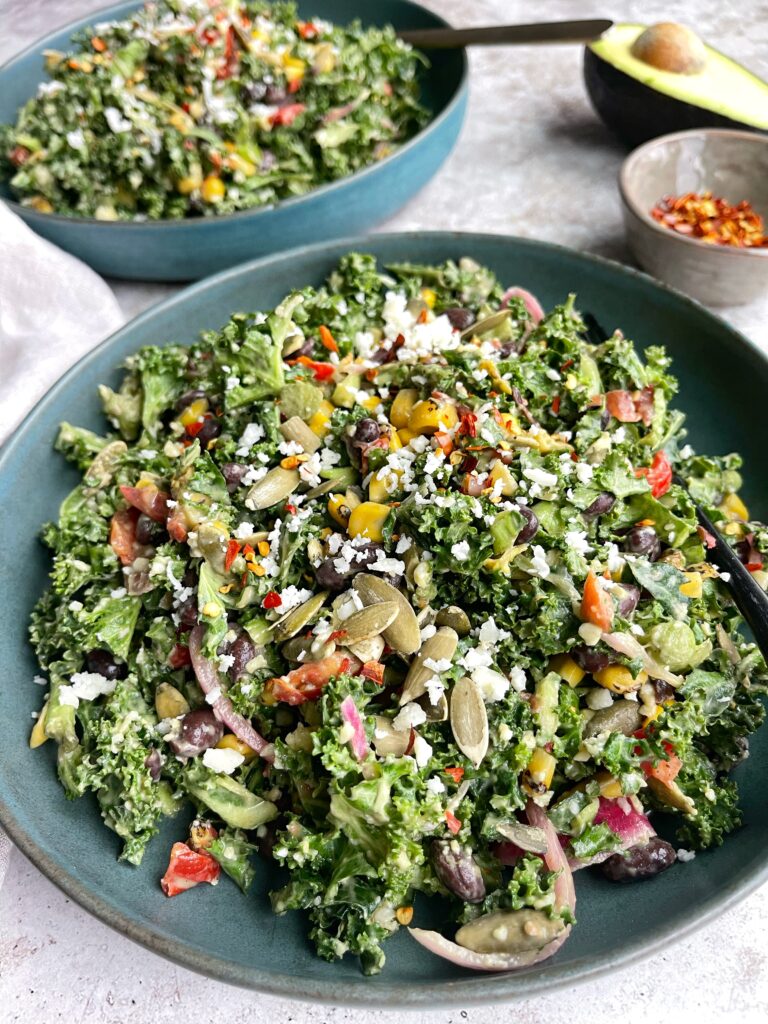 If you like this salad, you may also enjoy these recipes on One Balanced Life:
FAQs:
How long will this kale salad last?
This Southwestern Kale Salad is best to be enjoyed within 2-3 days of making to maintain freshness! It's best to keep it stored in a sealed container in the fridge to stay fresh and delicious.
Can I use a different dressing for the kale?
Yes! If you don't want to make the Avocado Cilantro Sauce for this kale salad, try your own! You can use any store bought dressing like Avocado Cilantro or Green Goddess that you love. A simple dressing to massage the kale in is lemon and olive oil. If you like cilantro, I love the Trader Joe's Cilantro Dressing too.
Is kale healthy?
Kale is very nutrient dense! It contains fiber, antioxidants, calcium, Vitamin C and K. It's great to add to a balanced diet.
Save and Pin for later!
Make sure to save and pin this recipe for later! Are you following me on Pinterest yet? You can also follow me on Instagram & Facebook, and make sure to leave a star rating and tag me if you make this recipe! xx
Southwestern Kale Salad
This Southwestern Kale Salad is packed with flavor and perfect to make for a delicious kale salad. Made with simple ingredients and massaged in a homemade avocado cilantro dressing.
Ingredients
6 cups shredded kale
1/2 cup tomatoes, chopped
1/2 cup black beans, drained & rinsed
1/3 cup pumpkin seeds
1/2 cup pickled onions
1 cup roasted corn
1/4 cup shredded cotija cheese
1/4 tsp sea salt
dash of black pepper
1/2 tsp garlic powder
1/2 cup Avocado Cilantro Sauce
Avocado Cilantro Sauce:
1/2 cup cilantro
1/2 avocado
1/4 cup plain greek yogurt
1/4 cup olive oil
1 garlic clove
1/4 tsp sea salt
dash of pepper
1/2 cup water
Instructions
In a large bowl add shredded kale, tomatoes, black beans, roasted corn, pickled onions, pumpkin seeds. Add sea salt, pepper and garlic powder.
In a blender, blend together avocado, cilantro, greek yogurt, olive oil, garlic clove, salt, pepper and water. Add more water to get to creamy consistency. Set aside.
Add 1/2 cup of avocado cilantro sauce on kale bowl. Massage with your hands to fully coat the greens and ingredients.
Top with cotija cheese and mix together.
Serve and enjoy!
Notes
Only start with 1/2 cup avocado cilantro sauce to massage with kale. Option to add more if you want.
Drain & rinse black beans before adding in.
Can omit cheese if you want.
I used Trader Joe's Roasted Corn (frozen)
until next time...