If you love a good bowl, then you will love these Buddha Bowls with Peanut Sauce. I mean it doesn't get any better than peanut sauce right?! I think I could drink this sauce it's that good. This bowl makes for a great meatless meal but would also be great with an addition of tofu, chicken or salmon. If you love to prep as much as I do, plan to make a lot of these ingredients at the beginning of the week and have them ready to easily throw these bowls together for lunch or dinner.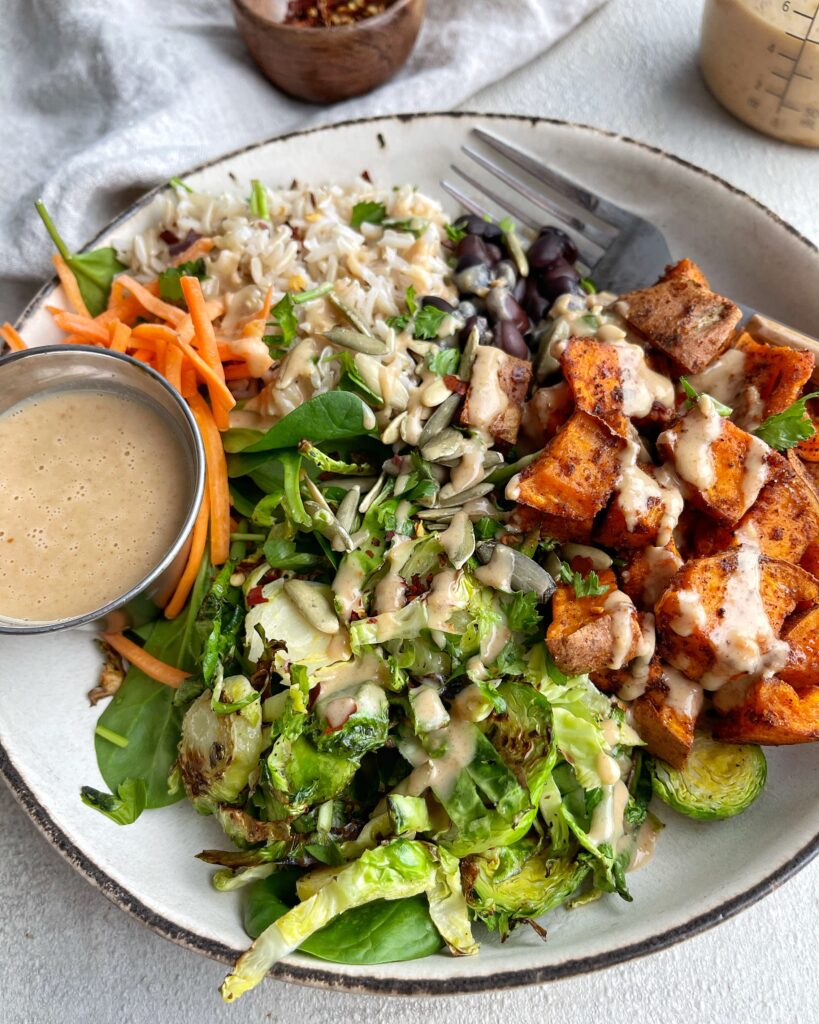 Buddha Bowls with Peanut Sauce
What you need for Buddha Bowls:
Brown Basmati Rice
Sweet Potatoes
Shredded Brussels sprouts
Shredded Carrots
Black Beans
Greens
Pumpkin Seeds
Avocado Oil
Sea salt, pepper, garlic powder, paprika, chili powder
For the peanut sauce:
Creamy Peanut Butter
Water
Honey
Lime, juiced
Coconut aminos
Garlic powder, sea salt
Can I add more protein to this dish?
Yes! This would be great to add chicken, tofu or salmon to.
Can I keep the peanut sauce for the week?
Yes! I like to store the peanut sauce in this dressing/sauce mixer in the fridge to use all week long. You may want to add more water to it as it sits in the fridge to get to the right consistency.
Recipe notes:
The peanut sauce makes enough for a couple bowls. I'd recommend making double of the ingredients to have for prep during the week so you can easily have these for a couple meals!
If you want to add more protein, I'd recommend adding salmon or chicken to these!
Looking for more bowl recipes? Try these!
If you like this recipe, you may also enjoy these recipes on One Balanced Life:
Save and Pin for later!
Buddha Bowl with Peanut Sauce
Full of flavor and perfect lunch or dinner!
Ingredients
1/4 cup brown basmati rice
1 sweet potato
1 cup shredded brussels sprouts
1/4 cup black beans
1 cup spinach
1/4 cup shredded carrots
1 tbsp pumpkin seeds
1 tsp garlic powder
1/2 tsp paprika
1/2 tsp chili powder
Avocado oil spray
sea salt, pepper
Cilantro for garnish
For the peanut sauce:
1/3 cup creamy peanut butter
1 tsp honey
1/2 lime, juiced
1 1/2 tbsp coconut aminos
1/4 cup water (may need to add more for desired consistency)
1/4 tsp garlic powder
Instructions
Preheat oven to 400 degrees.
Prepare the sweet potatoes by cutting into cubes. Coat with a little avocado oil and garlic powder, paprika and chili powder. Add a dash of sea salt and pepper. Bake for 40 minutes (flipping half way through)
Prepare rice according to package.
Prepare sauteed brussels sprouts by adding to pan with a little sea salt and pepper.
Prepare peanut sauce by mixing all ingredients together. You may want to add more water to get to consistency that you like. Set aside.
Prepare bowls: add spinach, shredded carrots, black beans, sauteed brussels, cooked rice and roasted sweet potato. Top with pumpkin seeds and cilantro. Drizzle with peanut sauce.
Enjoy!
until next time...