I love having breakfast options that are easy during the week and are simple to make! These Easy Egg Muffins are just that. Made with just a few minutes and take less than 30 minutes to throw together. It's easy to prep these at the beginning of the week and then have breakfast ready for the week.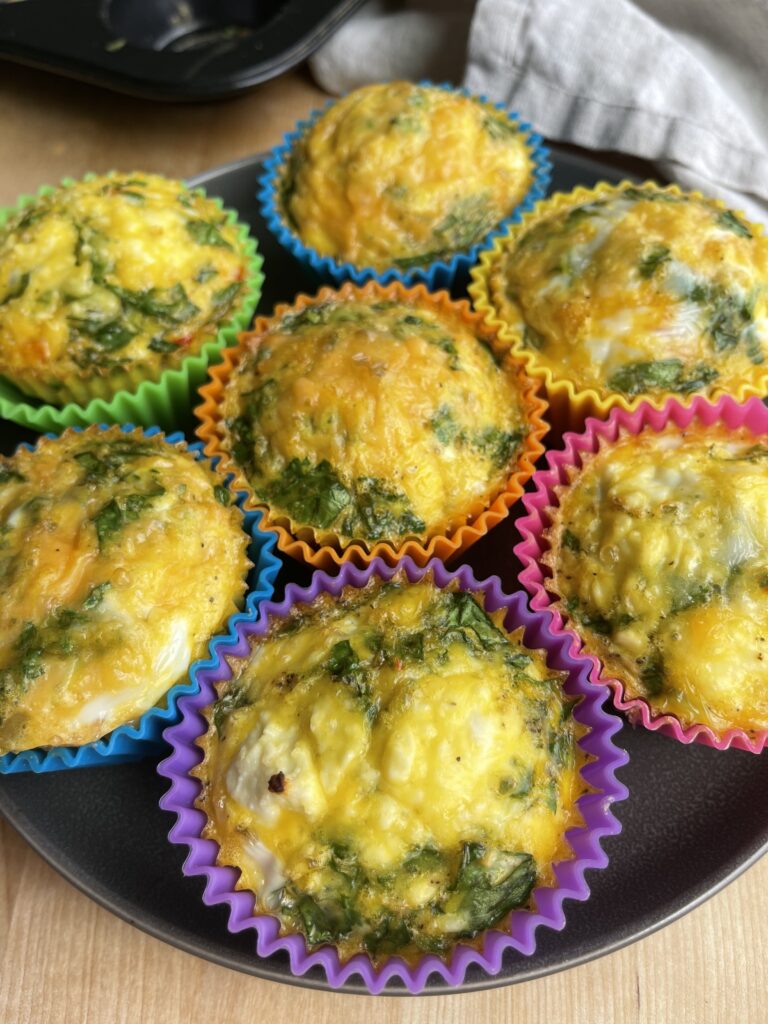 I'm always looking for new ways to switch up breakfast and these Easy Egg Muffins are one of my favorites! Not only are they so simple to make, but they are a delicious, balanced way to start the day. If you don't want these for breakfast, have them as a snack later on! There are a variety of ways these egg muffins can be switched up too. With different breakfast sausage or veggies, you'll always have new variations to make.
Once I've prepped these, I love to top them with avocado or sriracha too. Pair them with a side of fresh fruit and hot coffee and you've got yourself a delicious start to the day.
What you need for Easy Egg Muffins:
Eggs
Red Bell Pepper
Spinach
Breakfast Chicken Sausage
Feta Cheese
Shredded Cheddar Cheese
Sea salt
Black Pepper
Garlic Powder
How to make Egg Muffins:
Preheat oven to 350 degrees.
Whisk together 8 eggs. Mix with sea salt, pepper and garlic powder.
Cook breakfast chicken sausage according to package. Cut into pieces.
Cut up spinach and bell pepper in small pieces.
Layer the muffins with chicken sausage, bell pepper, spinach and cheese.
Pour the whisked eggs on top of the filled muffins.
Bake in the oven for 22 minutes.
How to store your egg muffins for the week:
It's best to store these egg muffins in the fridge in a sealed container. When you want to enjoy them, heat in the microwave for 30 seconds. I like using these containers to store them.
If you want to pair these egg muffins, try these options:
Add avocado on top!
Top with some spicy sauce or sriracha.
Pair with fruit or toast on the side.
If you like this recipe, you may also enjoy these on One Balanced Life:
FAQs
How long do these egg muffins last?
These will last for up to 4 days in the fridge. They can also be frozen if you want to keep a stash in the freezer to pull out when you need them. I just recommend letting them thaw in the fridge for 12hrs before reheating.
Can I use different veggies in these muffins?
Yes! That's one reason I love these making these. You can really switch up the veggies based off what you like and have. If you want to make them dairy free, you can omit the cheese too. Or if you want to make them vegetarian, leave out the chicken sausages. So many ways to switch them up!
What do you use to make these egg muffins?
I use a muffin pan and these silicone muffin cups to bake them in. I highly recommend using these so they don't stick to your pan!
Save and Pin for later!
Make sure to save and pin this recipe for later! Are you following me on Pinterest yet? You can also follow me on Instagram & Facebook, and make sure to leave a star rating and tag me if you make this recipe! xx
Easy Egg Muffins
These Easy Egg Muffins are great to meal prep for breakfast and so versatile! They are made with just a few simple ingredients and take less than 30 minutes to make. Breakfast ready for the week!
Ingredients
8 eggs, whisked
1/2 cup finely chopped spinach
1/2 cup finely chopped red bell pepper
4 maple breakfast chicken sausages
2 tbsp crumbled feta
2 tbsp shredded cheddar cheese
1/4 tsp sea salt
1/4 tsp garlic powder
dash of pepper
Instructions
Preheat oven to 350 degrees.
Whisk egg eggs. Add sea salt, garlic powder and pepper.
Cook chicken sausages according to package.
Chop up all ingredients.
Layer chicken sausage, bell pepper, spinach and cheese into each muffin. Top with eggs.
Place in the oven to bake for 22 minutes.
Notes
I used the chicken maple breakfast sausages from Trader Joe's.
until next time...